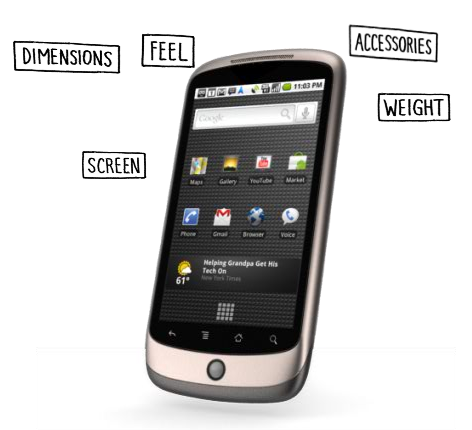 IMHO, this is quite chic. I have to say that I am kind of surprised by the design. While the OS itself is pretty much the same on all devices; we distinguish Android phones more by their design and usability. Respectively, reviews say that the phone feels very fast – faster than all other Android phones on the market. Well, the huge processor must be there for something. But despite that the Nexus One just looks cool. I think I have to get one for "testing purposes" … 🙂 No seriously, this is one of the pretty phones I have seen so far. Not just Android phones, I am talking about all smartphones you can compare the Nexus with. Well, the iPhone still looks great and I am actually loving the design of the new BlackBerry Bold 9700 as well.
The best thing is that you can get it unlocked without any SIM card limitation for just US$529 directly from Google. That is exactly what the developer community needs. A quasi standard phone for cheap which can be used for developing anywhere. They tried that already with the G1 for Developers but that didn't work that well. For example, I was not able to order one because they could not ship to my country or whatever. Anyway, the Nexus One seems to be great and it will kick off the Android developer community as we get a great phone for less money!
Technical Specs
Power and battery
Removable 1400 mAH battery
Charges at 480mA from USB, at 980mA from supplied charger
Talk time: Up to 10 hours on 2G; Up to 7 hours on 3G
Standby time: Up to 290 hours on 2G; Up to 250 hours on 3G
Internet use: Up to 5 hours on 3G; Up to 6.5 hours on Wi-Fi
Video playback: Up to 7 hours
Audio playback: Up to 20 hours
Processor
Operating system
Android Mobile Technology Platform 2.1 (Eclair)
Capacity
512MB Flash
512MB RAM
4GB Micro SD Card (Expandable to 32 GB)
Location
Assisted global positioning system (AGPS) receiver
Cell tower and Wi-Fi positioning
Digital compass
Accelerometer
Size and weight
Height: 119mm
Width: 59.8mm
Depth: 11.5mm
Weight: 130 grams w/battery; 100g w/o battery
Display
3.7-inch (diagonal) widescreen WVGA AMOLED touchscreen
800 x 480 pixels
100,000:1 typical contrast ratio
1ms typical response rate
Camera & Flash
5 megapixels
Autofocus from 6cm to infinity
2X digital zoom
LED flash
User can include location of photos from phone's AGPS receiver
Video captured at 720×480 pixels at 20 frames per second or higher, depending on lighting conditions
Cellular & Wireless
UMTS Band 1/4/8 (2100/AWS/900)
HSDPA 7.2Mbps
HSUPA 2Mbps
GSM/EDGE (850, 900, 1800, 1900 MHz)
Wi-Fi (802.11b/g/n)
Bluetooth 2.1 + EDR
A2DP stereo Bluetooth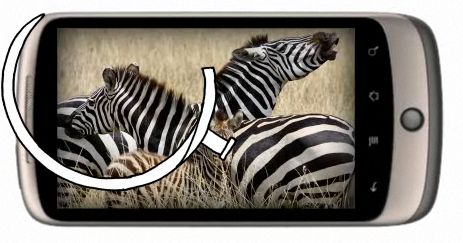 While the technical specs are interesting but not that astonishing let's take a closer look to the supported formats:
Image
JPEG (encode and decode), GIF, PNG, BMP
Video
H.263 (encode and decode) MPEG-4 SP (encode and decode) H.264 AVC (decode)
Audio encoders
AMR-NB 4.75 to 12.2 kbps sampled @ 8kHz
Audio decoders
AAC LC/LTP, HE-AACv1 (AAC+), HE-AACv2 (enhanced AAC+) Mono/Stereo standard bit rates up to 160 kbps and sampling rates from 8 to 48kHz, AMR-NB 4.75 to 12.2 kbps sampled @ 8kHz, AMR-WB 9 rates from 6.60 kbit/s to 23.85 kbit/s sampled @ 16kHz., MP3 Mono/Stereo 8-320Kbps constant (CBR) or variable bit-rate (VBR), MIDI SMF (Type 0 and 1), DLS Version 1 and 2, XMF/Mobile XMF, RTTTL/RTX, OTA, iMelody, Ogg Vorbis, WAVE (8-bit and 16-bit PCM)
Well, not much new in here too as those formats are supported by Android already. Still, I like the phone though. Well done Google!
More about the Google Nexus One:
Please follow and like us: