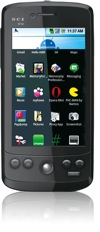 Just some days ago we wrote about the Dream G2 Phone "Made in China" that looks like Android but isn't one.
On that same show I took a flyer with their product showcase and it listed not just the fake Android phone. Bluelans actually plans to publish a real Android powered mobile phone in July 2009. At least that's what they told me. I am not sure if they can hold their roadmap and release but it would be great to have another Android on the market! When I saw the fake one I first thought: "Why don't they just take the free Android OS and put it on a phone rather than using a crappy Chinese OS and lots of programmers to wirte a fake Android User Interface?
Anyway, here is the data of the upcoming N12 SciPhone from Bluelans; if it will ever be released:
Processor: Marvell Monahands (624MHz) + Qualcomm MSM6246
Operating system: Android/ Windows Mobile
Dimensions: 117*58*12.7
Mode: UMTS-2100MHz, GSM-900/1800/1900 MHz
Bearer: GSM, 3G(WCDMA)
Display: WQVGA 240*400 pixels, 3.2 inch TFT 262K
Main camera: 3.2M pixel
Secondary Camera: 0.1M pixel
Storage: ROM-256MB+64MB, RAM-256MB+64MB
Extended Storage: Micro SD, up to 16GB
USB: USB 2.0 high speed
Bluetooth: Ver 2.0
GPS: Yes
WiFi: IEEE 802.11b/11g
TV: CMMB
Battery capacity: 1000mAh
Standby time(GSM): Up to 220 hours
Voice talk time(2G): Up to 170 minutes
Here you can download the original scanned Flyer which I took from the fair: N12 SciPhone with real Android OS Flyer.
Please follow and like us: