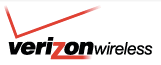 VerizonWireless will soon launch the Android 2.2 powered 7″ Tablet from Samsung called Galaxy S Tablet. How do I know that? Well … Verizon just sent an email to all developers in their VCAST Apps Program. The VCAST Apps store currently only supports BlackBerry applications, you can browse it on your desktop here: http://mediastore.verizonwireless.com/
I quoted the email below, but Verizon basically asks developers to upload their Android apps to their storefront for the Galaxy S Tablet by Samsung. On Samsung's website that device is called Galaxy Tab, though. Here are some pictures for those of you who don't know how it looks like: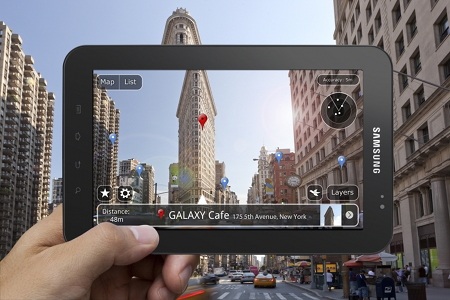 Looks nice, huh? Even the back is kind of pretty; but as usual with such Asian gadgets, they look very much like style-copies of Apple products similar to other known western brands.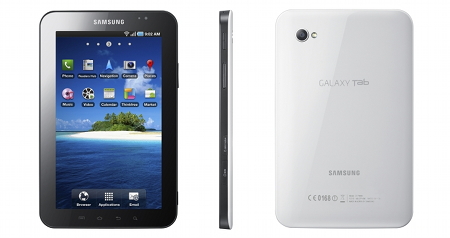 Still, the technical specs are promising and the tablet provides more features than Apple's iPad. However, from a professional point of view, I don't believe Android OS in version 2.2 is ready for full tablet usage yet. Users just expect a bit different of an experience from a tablet compared to a smartphone. Though the Galaxy S Tablet does only have a 7″ display it comes with pretty much the same resolution as the iPad and therefore you get as many Apps icons on your screen as you can see on an iPad (if those icons are the same resolution). Anyway, Android 3.0 will hopefully be a big step forward to better tablet usage and richer API's for us developers. Meanwhile, you guys can join Verizon's developer program and sell your Android apps in their VCAST store. I reckon there is quite some potential in here!
Dear Developer,

We are happy to let you know that V CAST Apps is now accepting submissions for the upcoming Samsung Galaxy Tablet! As you may know this will be the first tablet form factor to release with internal access to America's largest wireless network, and V CAST Apps will be the featured app delivery channel.

In most cases applications built for Android 2.2 will work without modification, but we want to make sure you have the opportunity to optimize your experience. Here are some notes to remember:

7" LCD Screen
Android 2.2 (FroYo)
2GB Internal Memory
16GB SD Card included
Data Only
GPS and aGPS Supported

Click here for more detailed information: http://developer.verizon.com/downloads/OEM_PDF/SamsungTab.pdf

If you have already submitted a binary for your application concept, you can add a new edition for the Samsung Tablet. After uploading your new binary, you will select the supported device SCH-i800 on the Content Descriptions page.

New Edition Quick Reference Guide: http://developer.verizon.com/jsps/devCenters/Smart_Phone/Landing_Pages/sp_gtm_vcastapps_binr_edit.jsp

If you have not yet submitted a concept, you can get started now through the developer portal.

Concept Submission Quick Reference Guide: http://developer.verizon.com/jsps/devCenters/Smart_Phone/Landing_Pages/sp_gtm_vcastapps_conc.jsp

If you have any questions, please check out the forums and FAQ's at http://developer.verizon.com.

Thank you for being part of the Verizon Developer Community. You applications help our subscribers Rule the Air!

Regards,

Verizon Developer Relations
http://developer.verizon.com
Final Note: I am wondering whether Verizon will also sell the BlackBerry PlayBook? What do you think?
Please follow and like us: